or maybe you'd like to...
call us:510-979-9969
We accept
---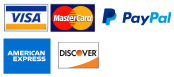 Most Frequently Asked Questions
When can I expect to receive my Order?
Once an order is placed it will take up to 2 business days for order processing, and an additional 3-7 Business Days for shipping.
Where do you ship from, and will I be charged Tax?
We ship out from California. We only charge tax for Orders that has shipping address in California. If purchased from our Amazon store, customers will be subject to Amazon tax rules.
Do you offer Wholesale, Government, or Purchase Order discounts?
Yes, if you have a need for higher quantity, we do offer volume discounts. We also accept purchase orders from Government, Schools, and Businesses. Please send inquiries to service@tenergy.com. *NOTE: we do not offer Net terms for payment.
Why are there two purchasing buttons, Add-to-Cart & Buy From Amazon? Why should I purchase direct instead of through Amazon?
By purchasing direct, all items in your order are auto registered for an additional year of warranty. We otionally still offer the ease of purchasing from our Amazon store, however, purchases are not automatically offered with an additional year of warranty.